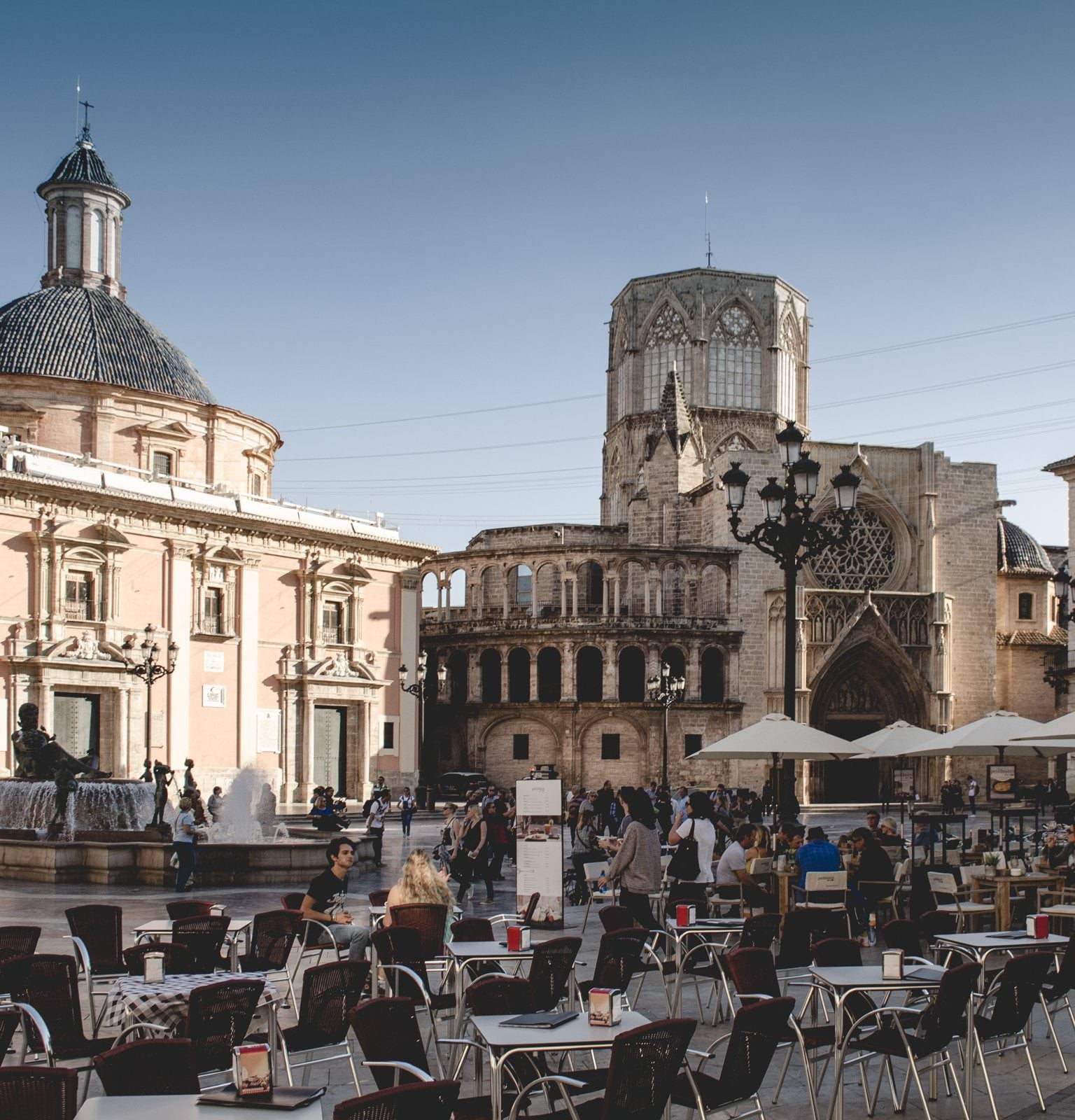 City Blog Valencia
Valencia, the vibrant coastal city on Spain's eastern coast, is a captivating blend of history, culture, and modernity. With its stunning Mediterranean beaches, architectural wonders, and mouthwatering cuisine, Valencia has something to offer every visitor.
City overview
Valencia is located on the southeastern coast of Spain and is famous for the city of arts. This consists of futuristic structures, such as the planetarium, oceanarium, and an interactive museum. The city has several beaches, which is also the reason many people choose to live here. The city has a population of 791.000 people living there and is divided into 19 districts, these 19 districts are subdivided into 88 neighbourhoods. A lot of people think of Valencia as a more modern city in Spain, but it has one of the oldest historical centres in Europe too. The city has over 2000 years of history and artistic heritage. Not only the famous local festivity Fallas but also the La Lonja and the Water Tribunal are part of the UNESCO World Heritage Site list.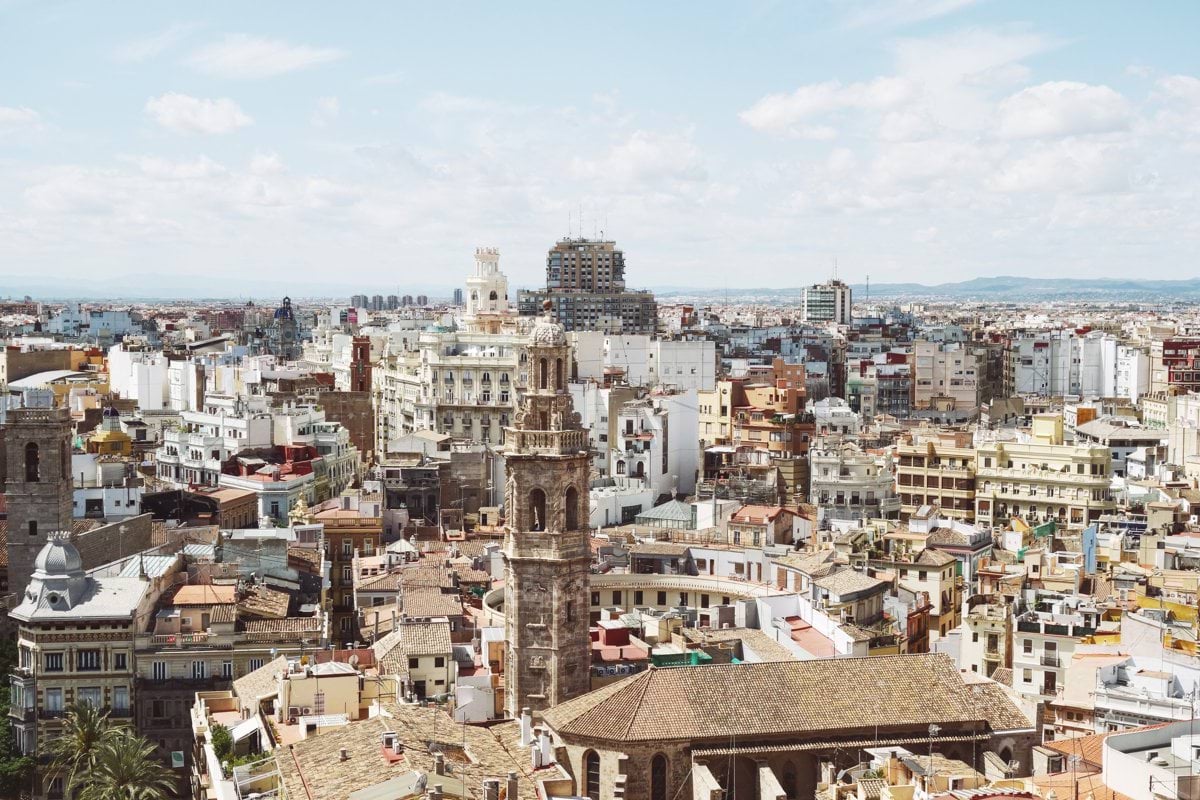 Fun facts about Valencia:
It is the home of Paella
Puente de las Flores is the most expensive bridge in the world
Las Fallas, which is one of the most famous tourist attractions in Spain, and also a UNESCO cultural heritage, originates in Valencia.
The Oceanogràfic of Valencia is the biggest aquarium in Europe
People in Valencia speak Valencian and Spanish.
Environment
Valencia has a Mediterranean climate. This means that there are warm summers and mild winters. The city has over an average of 300 days of sunshine a year and an average temperature of 17 degrees. In summer there is an average temperature of around 30 degrees during the day. In winter the temperature falls to an average of 14 degrees. Not only is it a very beautiful city with many great hotspots, but the environment around Valencia is also extraordinary. Just a few kilometres from Valencia, you can find rivers, pools, springs, and waterfalls.
Here is a list of beautiful nature hotspots where you can go for a swim around Valencia:
El Turche Cave = 60-metre waterfall falling into a beautiful lake where you can take a swim.
El Gorgo de la Escalera = Canyon carved out by the river water. You can go here via a staircase (Escalera). This spot has beautiful crystalline water. Close to this spot is Anna Lake. This is a famous lagoon worth visiting but you can't swim here.
Salto de la Novia (Navajas, Castellón) = This spot is further away (60 km) but is worth visiting. Here you can find the spectacular El Brazal Waterfall.
La fuente de los Baños (Montanejos, Castellón) = the source of thermal waters of Montanejos. The pools here have a constant temperature of 25 degrees. You have to buy tickets to enter these thermal waters (€3,- online, €3,5 office price).
You don't have to go outside the city to take a swim. There are a lot of beautiful beaches too. Most beaches are easily accessible by public transport. If you want to go to a less crowded beach that is still easily accessible by public transport, you can go to The patacona. The beach is not the only outdoor activity in Valencia. You can also go for a walk in the Turia city garden. With its 12 km, the Turia city garden is one of the biggest urban parks in Spain.
Culture and Nightlife
Valencia is known for many things. For example, the city of arts and sciences, the central market, being the birthplace of Paella, sandy beaches, the old town, the Cathedral, and not to forget the Fallas. Valencia has combined modern and historic quite well.
Las Fallas
In 2016 the famous festival Las Fallas was awarded UNESCO cultural heritage status. Las Fallas is a big festival in which the whole city transforms into a big art gallery with street parties for a few days every year in March. People here take an entire year to plan this festival. Every day at 2 PM during Las Fallas there is an enormous firework display. The fireworks are all about the noise and get bigger every day. They celebrate the end of winter and the festival stands for new beginnings.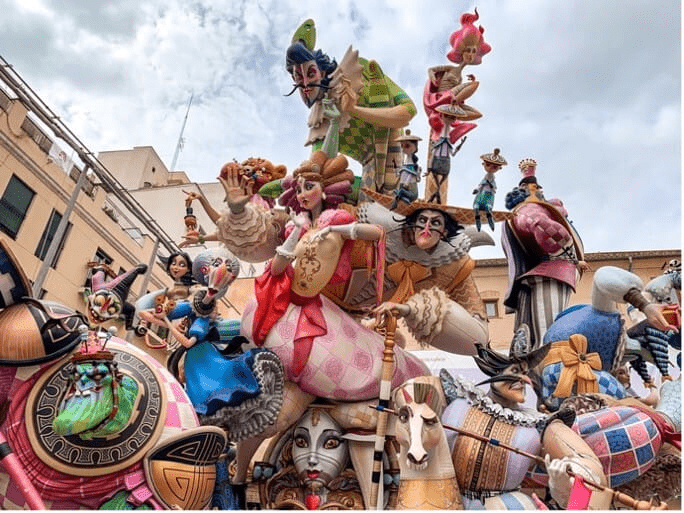 La Tomatina
Another festival is La Tomatina. This festival takes place at the end of August. During this festival, a lot of visitors go to a small town next to Valencia where they throw over-ripe tomatoes at each other. This festival comes with a long history.
Paella
Food and eating is taken very seriously in Spain. The famous Spanish paella was invented in Valencia. For more than 1000 years, Paella rice has been growing in this region. An old tradition is to cook huge amounts of paella over firewood on the street during the weekends or on special occasions.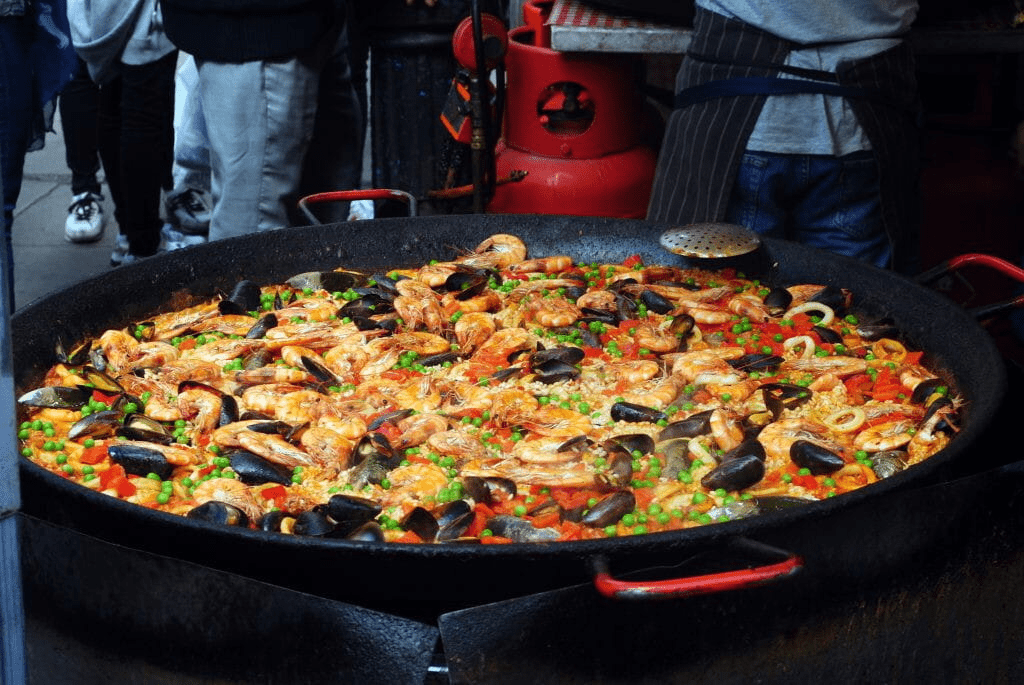 Oceanografic
A more modern part of Valencia is the City of Arts and Sciences. The oceanografic of the city of arts and Sciences is the largest aquarium of Europe, situated on the Dry Turia River bed in Valencia. The oceanografic is made of different buildings, each representing the ecosystem of different planets, seas and oceans. Oceanografic is located in Valencia because of its close relation with the sea.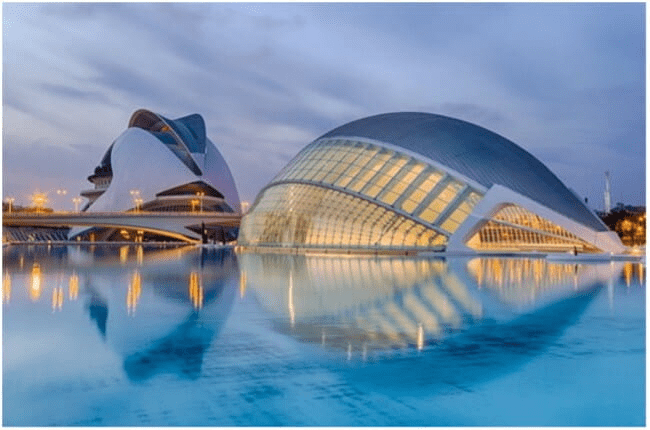 Nightlife
Valencia is one of the best party cities in Spain. During the 80s and beginning of the 90s, it was already known for being a Spanish city with endless parties. Here is a list of places you can go to a party on a night out. Just like in other cities in Spain, entrance to a club costs you around €10,-, including one drink. At some clubs, you will be able to enter for free if you go there before 1.30 AM.
La3 Club – Electronic, techno, house music
Mya – A lot of local young crowd goes here.
L'Umbracle – Beautiful open-air club
Agenda Club – Disco, Funk, Hip-hop, House (Students meeting point)
Akuarela – International beach club (Happy atmosphere close to the sea)
Just like all Spanish cities, the nightlife does not get started before 11 PM. This does not mean that Spanish people party for a shorter period. In Spain, they finish partying just as late as they start. The best nightlife of Valencia can be found in the neighbourhood of El Carmen.
Public transport
Valencia has 60 bus lines, 6 metro lines, and 3 tram lines. The public transport connects you to everywhere in the city, including the airport. The metro runs between 4:00 and 23:30 AM on weekdays and between 5:00 and 00:30 on the weekends. The price of the tickets for the metro depends on what zones you have to travel in. You can choose between a single ticket or bonometro (10 times). If you have to travel frequently, the TuiN card is the best option. You can spend a minimum amount on your travels per month by paying for the card. How much this cart cost depends again on the zones you will travel in. The most expensive card is €63,- a month.
Busses are a good option for when the metro does not reach your destination or when the metro does not run anymore. After 10:30 PM night buses start running. Night Buses run until 2:00 AM during weekdays and 3:00 AM during weekends. There are also long distance buses and trains that go for example to Barcelona and Alicante.
The city also has a cycle rental service called Valenbisi. With this you can rent bikes 24 hours, 365 days a year, that are placed throughout the whole city. There are many bike lanes which makes it safe and easy to travel by bike. You can subscribe to bicycles. A weekly subscription is €13,30. This is a good option for when people visit only for a week. If you are moving here, an annual subscription will be €29,21. The first 30 minutes used on top of your subscription is free. If you use it for longer than 30 minutes the costs will be between €0,50 and €1,00.
You can also use a taxi in Valencia. Uber does not exist here. In Valencia, they use the app Cabify to get a taxi. You could of course also wave your hand when you see a taxi with a green light.
Housing
If you are looking for an apartment in Valencia but are not sure what area is the best to live in, there is good news for you. There are a few very nice districts but the whole city is great to live in. Here you can find a list of a few nice neighbourhoods to live in with an explanation.
El Carmen – This is the old city and a lot of people see this as the most beautiful part of Valencia. Apartments here are in general a bit more expensive than in other neighbourhoods. All the protests, festivals, and celebrations take place here in the centre. Therefore it is not always the most practical choice to live here.
Rusafa – This is a very attractive area where you find a lot of cultural activities. It is a very popular area to go out to. There are a lot of restaurants and pubs here.
Benimaclet – This is a cheaper area to live in. Benimaclet feels like a village because of the narrow and cosy streets.
El Cabañal – Similar to Benimaclet but closer to the beach. Also, a cheaper area to live in than El Carmen and Rusafa.
Blasco Ibañez Avenue – A lot of students live here. Universities are located here. Also, an affordable place to live in.
Port Saplaya – One of the most beautiful areas just outside Valencia. Port Saplaya is located 4 km outside Valencia near the beach. It is very easy to enter the city by public transportation.
A tip for moving to this city is to learn a little bit of Spanish before moving there. A lot of real estate agents and landlords only speak Spanish. But don't worry if you do not speak Spanish. If you search a little longer and better you will find an English-speaking landlord.
Valencia is a relatively better option to live in than Barcelona and Madrid when you are looking at the costs of living and renting an apartment. The rent is on average even almost 30% lower here than in Barcelona. The prices for apartments to rent for 4 people are around €2000,- and for 2 people €1000,-. On average for a room in a shared apartment, you will pay €500,-. Of course, this also depends on the area you decide to live in.
Some websites for renting apartments in Valencia are:
Healthcare
The public Spanish healthcare system is called the National Health System. This system is for everyone who lives and works in Spain. Everyone who works in employment or self-employment and pays social security contributions can get access to the National Health System. Health insurance is covered by Spanish social security systems. Everyone in Spain who is employed contributes to social security.When you move to Spain, you have to register with the public healthcare system. The first step is to register with the Spanish Social Security (Dirección General de la Tesorería General de la Seguridad Social or TGSS). You need your ID or Passport for this, your residence certificate, and proof that you have registered your local address to the town you live in. After you receive your Social Security number, you also get a paper that says that you are officially entitled to get medical help in Spain.
In Spain you see a lot of pharmacies, you can go there with your receipt to get your medicines. Pharmacies are often indicated with a green cross. When you are working age, you will pay 40% to 60% of your costs. This depends on your income.
Here is a list of general phone numbers in case of an emergency in Spain.
061 = Ambulance
1003 = Emergency doctor
961 496 199 = Emergency dentists
963 600 313 = Pharmacy
112 = National Emergency number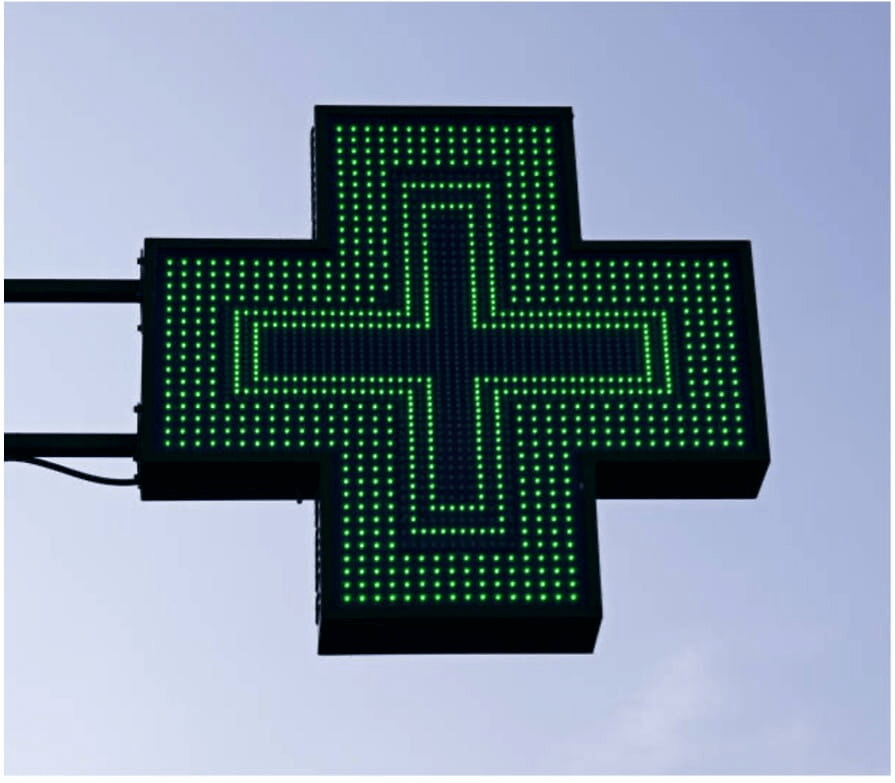 Some words to get you started
The people in Valencia speak both Spanish and Valencian. You can see a few examples of often used words in Spanish, Valencian, and English.