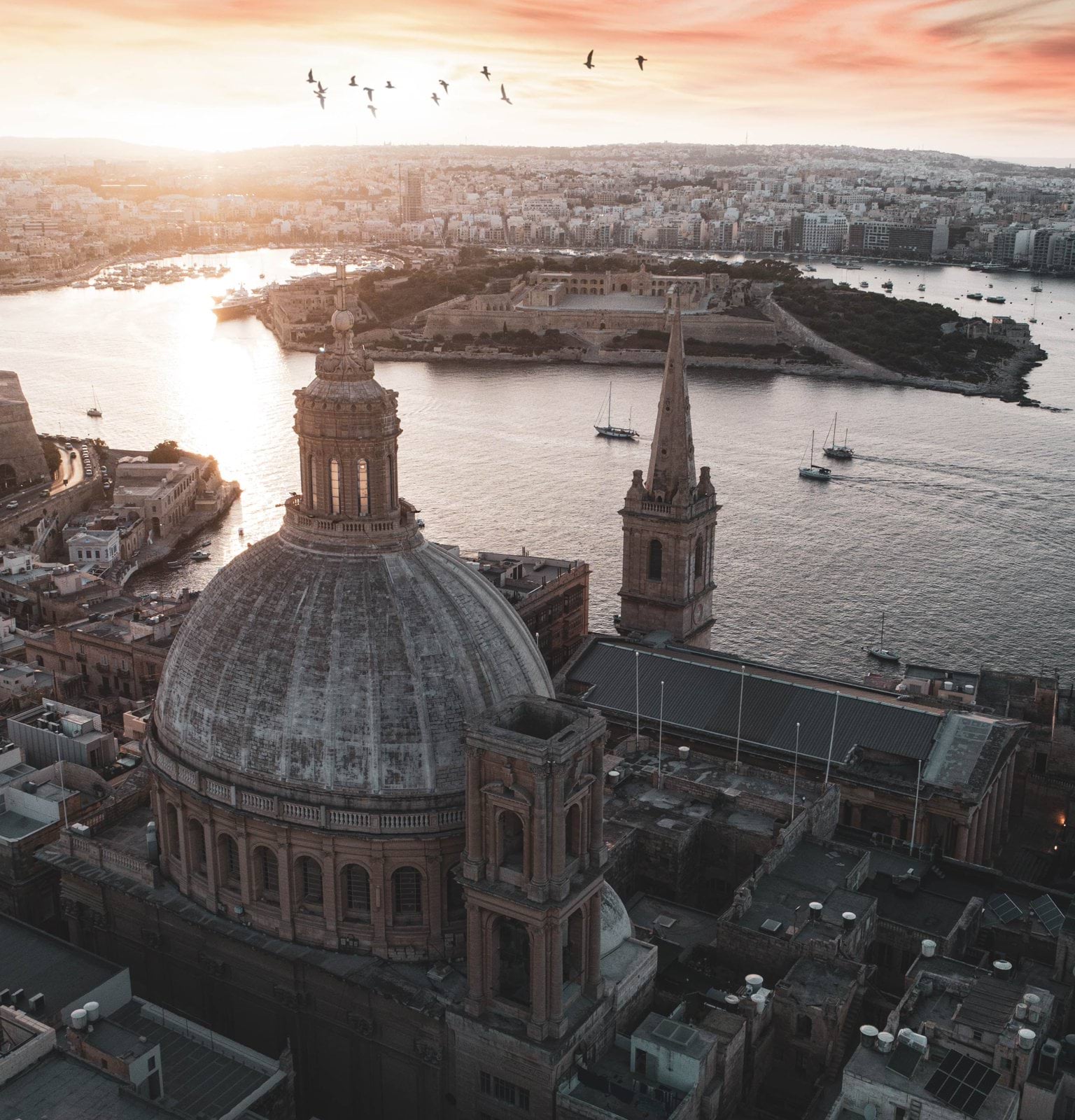 City Blog Valletta (Malta)
If you are looking to move to a city that has amazing weather, surrounded by the beautiful Mediterranean Sea, and where you can get by with English, then Valletta is the place to be! The stunning capital city of Malta, located below Italy in the Mediterranean Sea, has over 3,000 hours of sunshine per year and has a warm Mediterranean climate. If you are looking to get away from your cold and rainy environment, Valletta is the perfect destination for you. After reading this blog you will know more about Valletta's environment, nightlife, culture, public transport, housing, health care, and some words to get you started.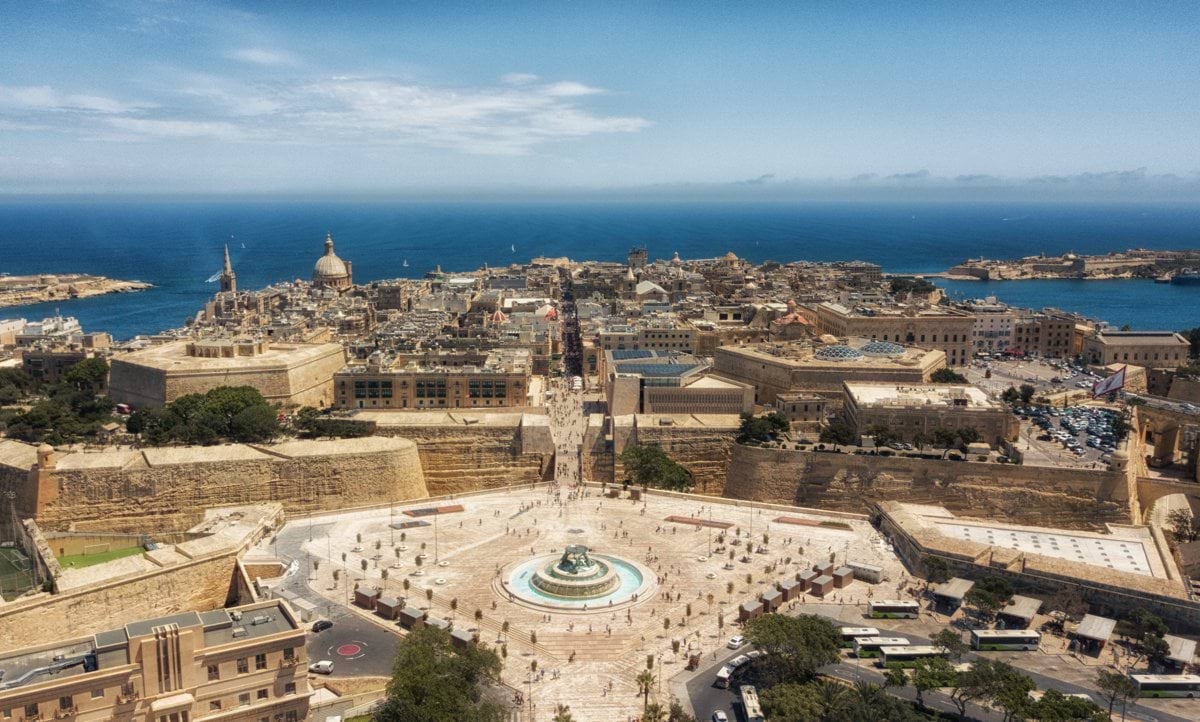 Fun Facts about Valletta:
The city was built in only 15 years!
Valletta was not always the capital of Malta. Until 1571, the capital of Malta was Mdina.
A Caravaggio painting is housed in St John's Co-Cathedral.
Valletta offers some of the finest wining & dining experiences.
Malta has a reputation as a Diving Hotspot.
The Pirates of the Caribbean franchise passed off a few Maltese landscapes as Caribbean beaches. 'Game of Thrones' also contains several scenes filmed around the intensely photogenic capital of Valletta.

The Maltese still drive on the left-hand side of the road, after 160 years of British rule, making Malta one of only four European countries, including Britain, that still drives on the left.

Valletta is the sister city of Palermo, in Italy!

City overview
Valletta is the capital city of Malta and the smallest capital city in the European Union based on population. It lies on a peninsula, and it is a pre-planned city, which is reflected in the chessboard pattern in which the streets are laid out. Valletta has 8 (unofficial) neighborhoods: Deux Balles, il-Baviera, Strada Rjali, il-Kamrata, Manderaggio, I-Arċipierku, il-Fossa and il-Biċċerija.
The population of Valletta is 6,315 and the area is 80 hectares. The city was founded in 1566 by the Frenchman Jean de Valette. In 2018 it was the cultural capital of Europe and since 1980, Valletta has been on the World Heritage list of UNESCO.
Environment
Temperature
Valletta is located in the Mediterranean Sea and therefore has a Mediterranean climate as well. The city has mild and wet winters with temperatures ranging from 10℃ to 16℃ in January. The summers, on the other hand, are hot and dry with temperatures ranging from 23℃ to 32℃ in August. Valletta's annual average is above 23℃ during the day and 16℃ at night.
Rainfall and Sunshine
In Valletta, most rainfall is in the winter. During summer there is almost no rainfall at all. Throughout the year the average amount of precipitation is 580.7mm. July has the most hours of sunshine and December has the least hours of sunshine. During the whole year, you can expect 3,054 hours of sunshine in Valletta.
Landscape
Valletta's natural landscape is defined by karstic rock and typical Mediterranean plants and is influenced primarily by its geomorphology, climate, biodiversity, and various settlement patterns and practices, including agriculture. The peninsula has low, rocky islands with rugged, steep coastal cliffs.

Culture and Nightlife
What to see
Of course, when you go to Valletta you can learn all about the history of the Order of Knights of the Hospital of Saint John of Jerusalem. Valletta has many beautiful historical sights to see such as St. John's Co-Cathedral, but also, St. Paul's Cathedral, the Grand Master's palace, Fort St. Elmo, and Casa Rocca Piccola.
It also has interesting museums such as the National Museum of Archaeology, the Museum of Fine Arts, and the National War Museum. If you want to go shopping, Republic and Merchant Street are the places to be. Other places to visit are the Upper Barraka Gardens, the Teatru Manoel, the city gate, and the Valletta waterfront.
Furthermore, if you want to see other places outside of Valletta, you can go to the Three Cities of Malta. These are Vittoriosa, Senglea, and Cospicua and they are right across the Grand Harbour of Valletta. These cities are pieces of living history kept alive by hundreds of years of preservation.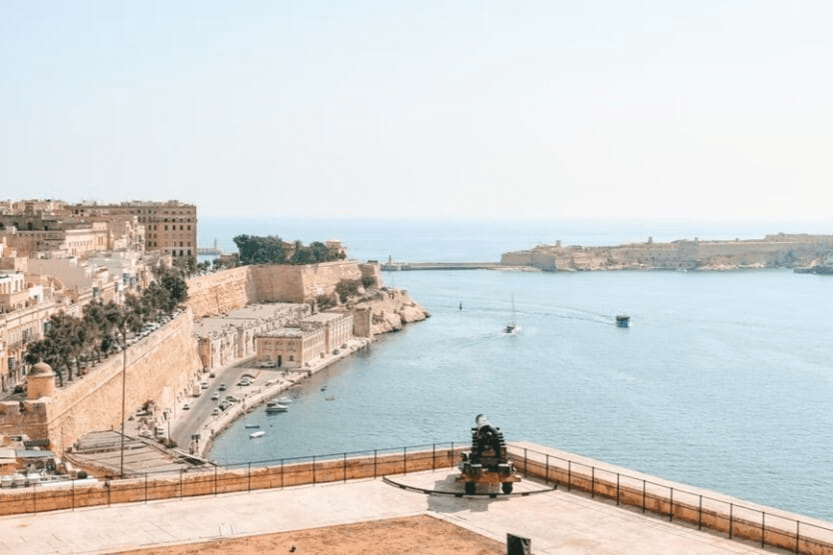 Food
Valletta has one of the best Mediterranean cuisines with many great restaurants. Some good restaurants are Rubino, Dimitri Café, and Beati Paoli Restaurant. The traditional dish in Valletta is Stuffat Tal-Fenek (rabbit stew). Other things you should try in Valletta are Bragoli, Brungiel Mimli, Kapunata, and the sweets Helwa Tat-Tork.
Nightlife
The nightlife scene in Valletta is not so extensive, however, that makes the nights even more fun. Because there are no nightclubs in Valletta, all the people of Malta go to the bars for drinks together. It may not have a big dance floor, but you can still enjoy a night out. Some popular bars in Valletta are Bridge bar, StrEat Whisky, King's Own Band Club Bar, and Trabuxu.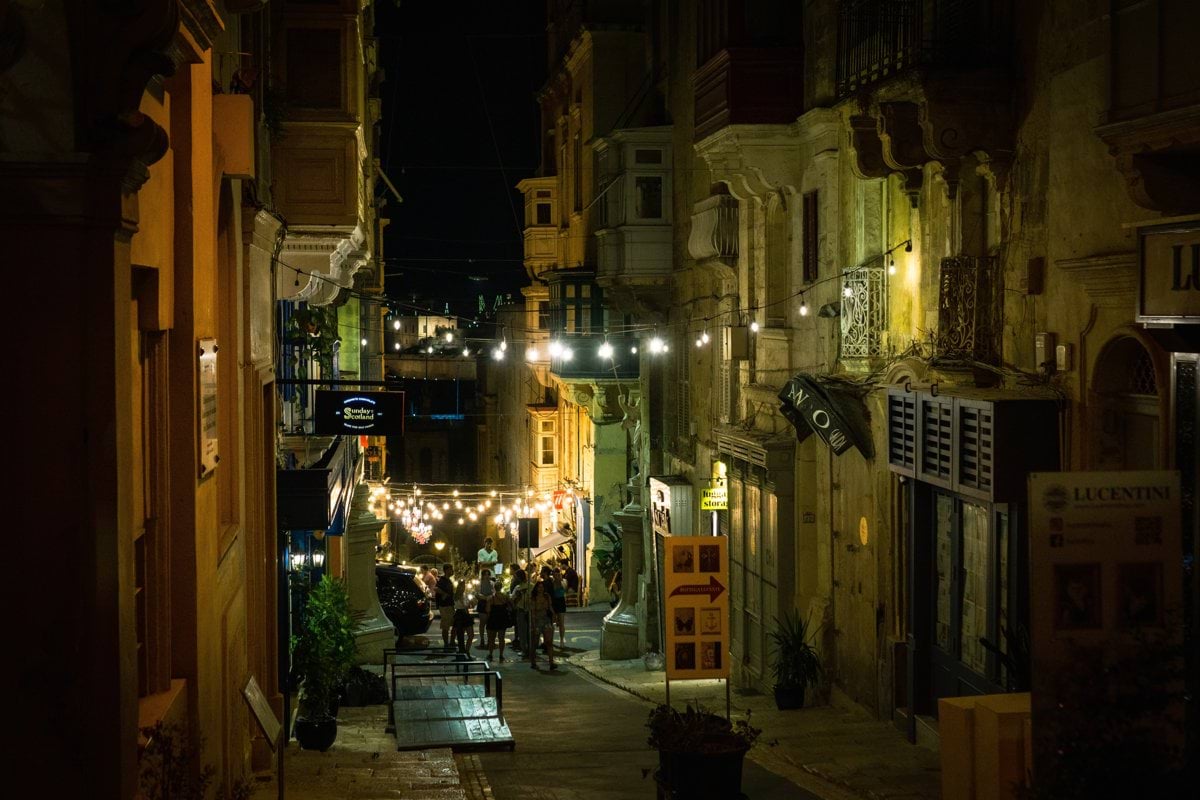 Holidays
Throughout the year there are 14 public holidays in Valletta. Here is a list of all the holidays and their dates:
1st January: New Year's Day
10th February: Feast of St. Paul's Shipwreck
19th March: Feast of St. Joseph
31st March: Freedom Day
15th April: Good Friday
1st May: Worker's Day
7th June: Sette Giugno
29th June: Feast of St. Peter and St. Paul
15th August: Feast of the Assumption
8th September: Feast of Our Lady of Victories
21st September: Independence Day
8th December: Feast of the Immaculate Conception
13th December: Republic Day
25th December: Christmas Day
Public transport
Valletta is a relatively small city and therefore it is possible to move around by foot. If you do want to move around using public transport there are a few options, such as buses, taxis and you can use the ferry to travel to Sliema and Cospicua.
Buses
The most common means of transportation are buses. These buses are operated by Malta Public Transport, which has over 400 buses in the city. This bus-service provider also has an app available for Android and iOS. In this app, you can plan your ride and find additional information about the bus service. The app is called Tallinja and is completely free of charge.
Download the app now!
You don't have to worry about the costs, because bus tickets are really cheap. There are 3 ticket options: a single journey ticket, a 12-journey card or you can use your personalized Tallinja transport card. The Tallinja transport card is an intelligent contactless bus card designed to make it easy for you to use the bus. The card is personalized with your photo and name and can be charged with credit easily online, over the phone, at any of our sales outlets or at any MaltaPost post office.
Next to the Tallinja transport card, you can buy regular tickets. A single journey ticket differs in price depending on the season. Winter tickets are €1.50, summer tickets are €2 and when you travel at night the tickets are €3. With this ticket, you can travel to any destination within 2 hours, including interchanging. Finally, you can get a 12-journey ticket for €15. This ticket can also be used for night buses, and it can be shared with others, your family for example.
Taxis
When you want to travel around Valletta by car, your only option is to take a taxi, since traffic within Valletta is restricted. These taxis are all-electric and are available from 10 points in the city to any destination you want. Taking a taxi, however, is more expensive than the bus. Taxis in Valletta have a start rate of €4 and charge you €2 per km.
Park-And-Ride
If you insist on going to Valletta by car, the Park-And-Ride in Floriana is your best option. This is a parking space just outside the city, where you can park your car and go to Valletta with a shuttle bus available at the Park-And-Ride. It has over 750 parking spaces and it only costs €0.40 per day.
Ferry
To visit the cities Sliema and Cospicua, you can use the ferries Sliema Ferry and Cospicua – Valletta ferry that departs from opposite sides of Valletta. The Valletta Ferry Service operates during the day as well as at night. During the day a single ticket is €1.50 and a return ticket €2.80. At night a single ticket is €1.75 and a return ticket €3.30.
For more information, you can check out the website of Malta Public Transport
Housing
If you are looking to rent a living space in Valletta, there are some websites to help you find available apartments and rooms in the area. Besides these websites, there are also Facebook groups where you can search for rooms and apartments. Prices for renting apartments and rooms are reasonable in Valletta. For apartments, prices are between €600 and €800 per month, depending on the status of a room. Renting a room in Valletta is a little cheaper, on average €450 per month varying from €250 to €550 per month. Below are some useful websites for renting apartments and rooms in the area of Valletta:
Since Valletta is not a very big city and it is easy to get around, you could also consider looking for a living space just outside the city. For example, in Sliema, Cospicua, or Floriana.
Healthcare
First of all, the World Health Organization ranked Malta 5th in offering the best healthcare in the world! So, in case of an emergency, you are in good hands in Valletta. Valletta has both a public and private healthcare system.
The public healthcare system is funded by the working citizens of Malta and, therefore, is free at the point of delivery. This free public healthcare is also available for ex-pats with a work permit for Malta. Expats who move to the country have to pay national insurance contributions to the social security fund like the Maltese do. This is approximately 10% of the employees' gross salary. Additionally, major companies tend to hire private doctors on contracts to attend to the medical needs of their staff when needed.
There are two hospitals in Valletta: Sir Paul Boffa Hospital and St. Luke's Hospital. Both of which you can go to when you are in need of medical assistance. Malta offers free access to medical facilities to all EU citizens on presentation of a valid EHIC. An EHIC is a free European health insurance card.
The number you need to call in case of an emergency is 112, as in most European countries. The aid workers on the line are able to assist you in English or Maltese. Here you can find more information regarding the Maltese healthcare system (How to obtain an EHIC, how to make appointments, and get a prescription)
Some words to get you started
English and Maltese are the two official languages of Malta. Maltese is the national language of Malta. Until 1943, Italian was also an official language, therefore a lot of Maltese speak Italian as well. Below are some Maltese words to get you started in Valletta 😊.