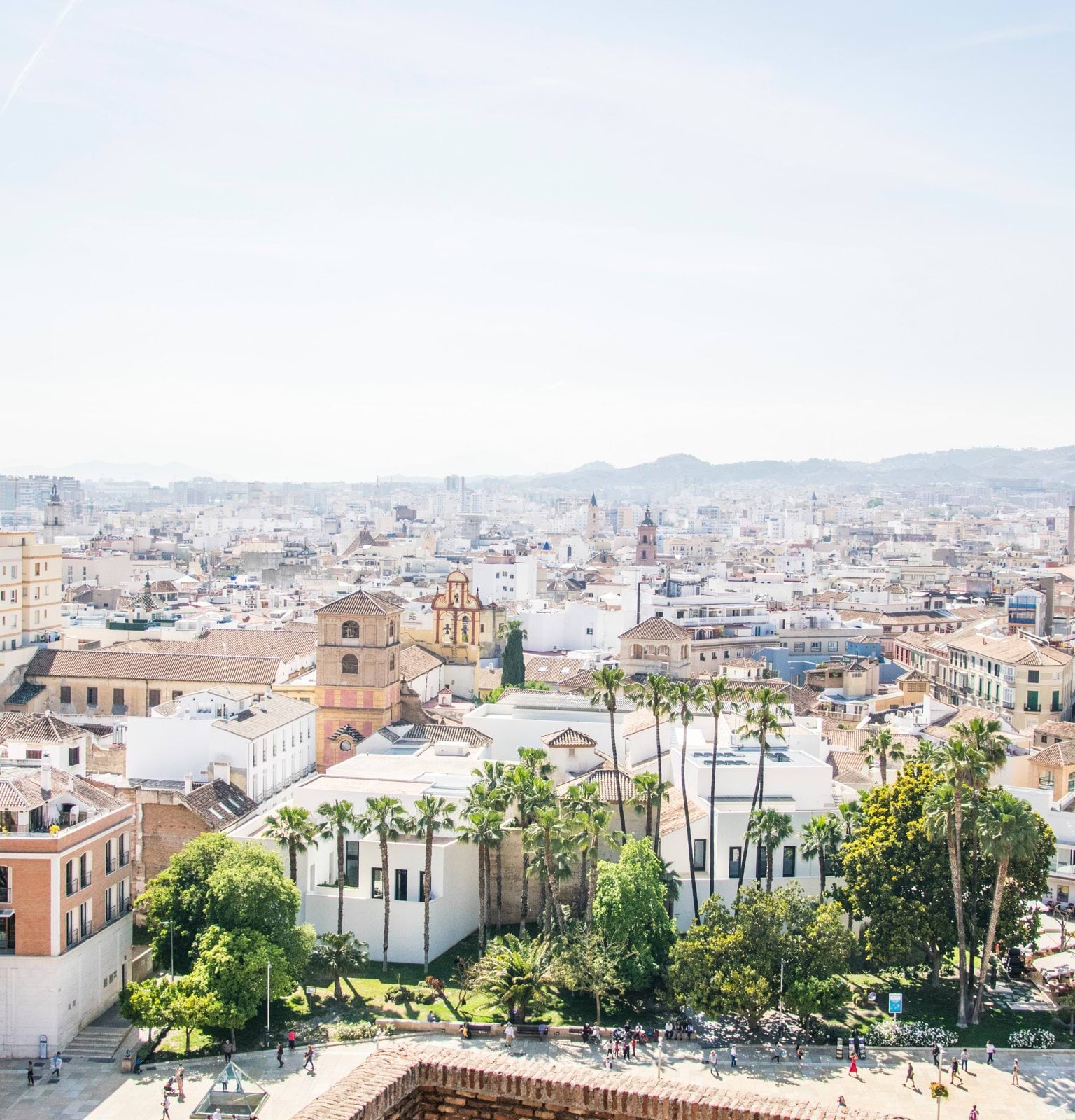 City Blog Malaga
Málaga is a wonderful destination. We are completely in love with this vibrant city because it has everything to offer. In the old centre you will find a lot of museums, culture, historical monuments, tapas bars, rooftop bars, nice squares, and very friendly locals, the Malagueños. In this blog we will give you some insights about the city, environment, activities, public transport, housing, and healthcare. We will provide you some links which give you even more information on the topics we are about to share with you.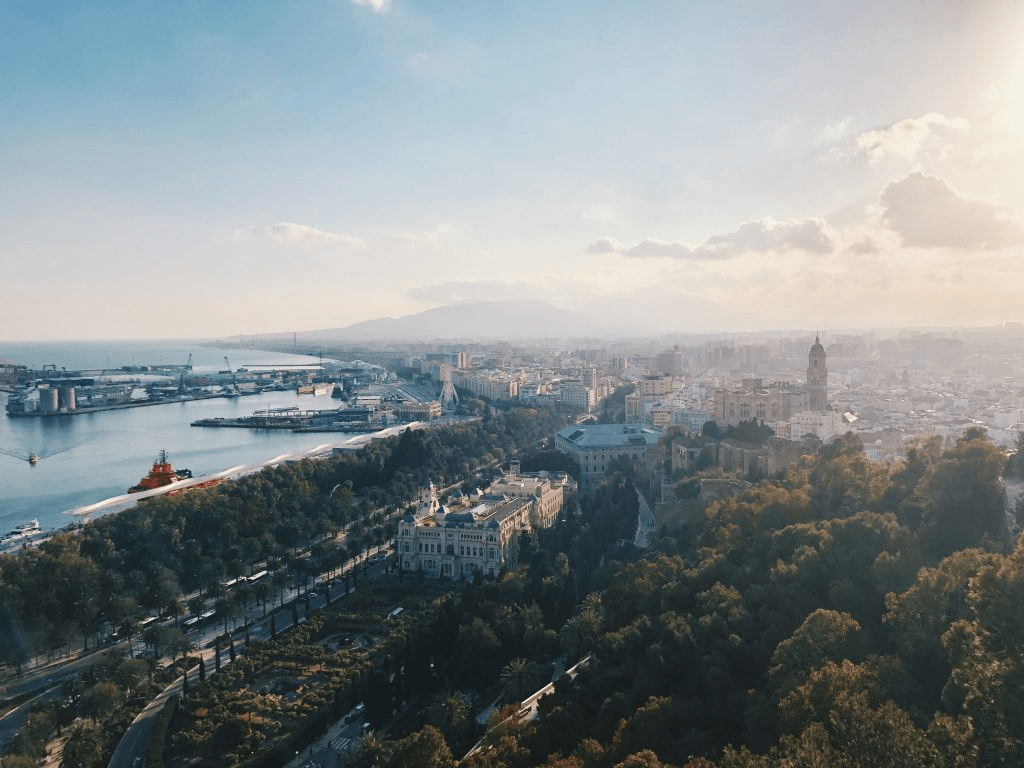 Did you know:
Malaga is known as one of the World's oldest cities, Malaga was founded in 770 BC by Phoenicians.
The people of Málaga are known as Malagueños and in popular parlance they are also referred to as boquerones (anchovies).
Every year over 6.5 million tourists visit the province of Malaga.
The highest temperature ever recorded in Malaga was 43.3 Celsius.
The original name for Malaga is 'Malaka' which means 'Factory'.
City overview
Málaga is the second-most populous city in Andalusia, and the sixth most populous in Spain. With a population of 578.460 in 2020. The city is located on the Mediterranean Sea, on the touristic Costa del Sol, approximately 140 kilometers from Gibraltar. Málaga is surrounded by mountains, the Axarquia, and bounded by the rivers Guadalmedina and Guadalhorce. The city is, with two thousand-eight hundred years of history, one of the oldest cities in Europe. The strategic location of the port is an important site along the trade routes since ancient times.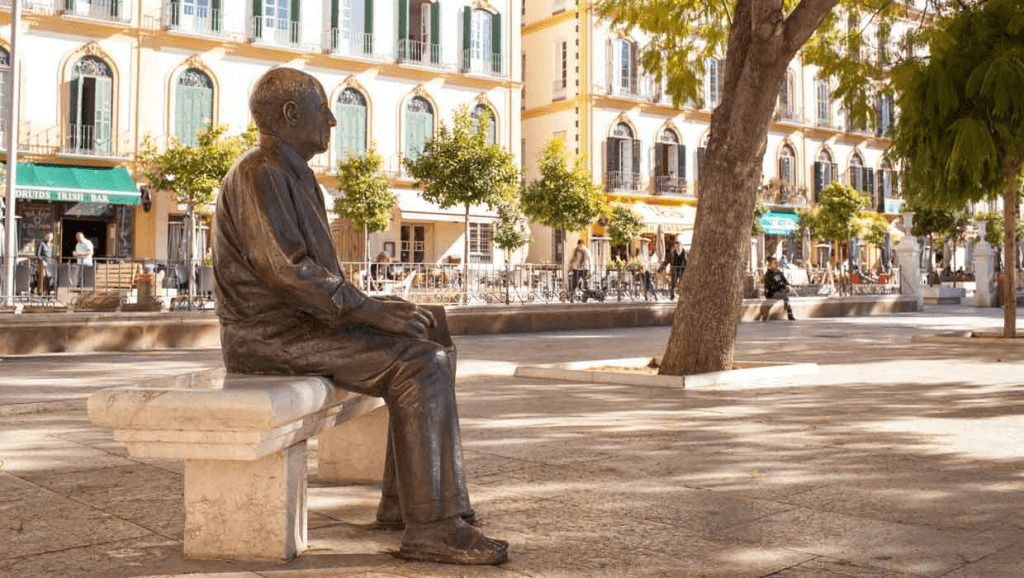 The birthplace of the famous artist Pablo Picasso is in Málaga. Picasso is probably one of the most famous 'Malagueño', that is how they call a resident of Málaga, while he has not even lived 10 years of his life in Málaga. It is possible to see the house of Picasso where he grew up. The house is located on Plaza de la Merced, right behind the Picasso statue. His house has been renovated into a small museum. Do not expect that you will encounter a lot of the artist's work. For paintings from the start and end period of Picasso, it is better to visit the Picasso Museum in Málaga.
Environment
Málaga has a subtropical-Mediterranean climate. It is located in the south of Spain, in the region of Andalusia. In this region, the weather is mostly sunny for a large part of the year with a pleasant temperature. The temperature in Málaga is generally even more pleasant than in the countries behind Spain. In summer it is slightly cooler in Málaga than in the cities of Sevilla, Córdoba and Granada. These cities can get very hot in summer. An advantage of Málaga is the coast which provides cooling from the sea. The average temperature in Málaga is about 22 degrees.
The temperature in spring is ideal for a city trip in the sun. A day at the beach is possible, although the sea water has not warmed up yet. In summer the temperature can rise far above 30 degrees. When a Terral wind is blowing in Málaga, it is done with the cooling. Terral wind causes very warm air from Africa. In the months July and August this can occur several days a month.
You can still enjoy the late summer during autumn. The weather is pleasant, but slightly less warm than summer. From October till the end of winter, the chance of rain increases a little more.
Activities
Málaga is a bustling city. Popular as a city trip, stop during a tour of Andalusia and to experiences the working life. There is always something to do, that it is almost impossible to list them all. For those who enjoy history, nature, art or a good meal. The following list is a short summary of a few things we recommend.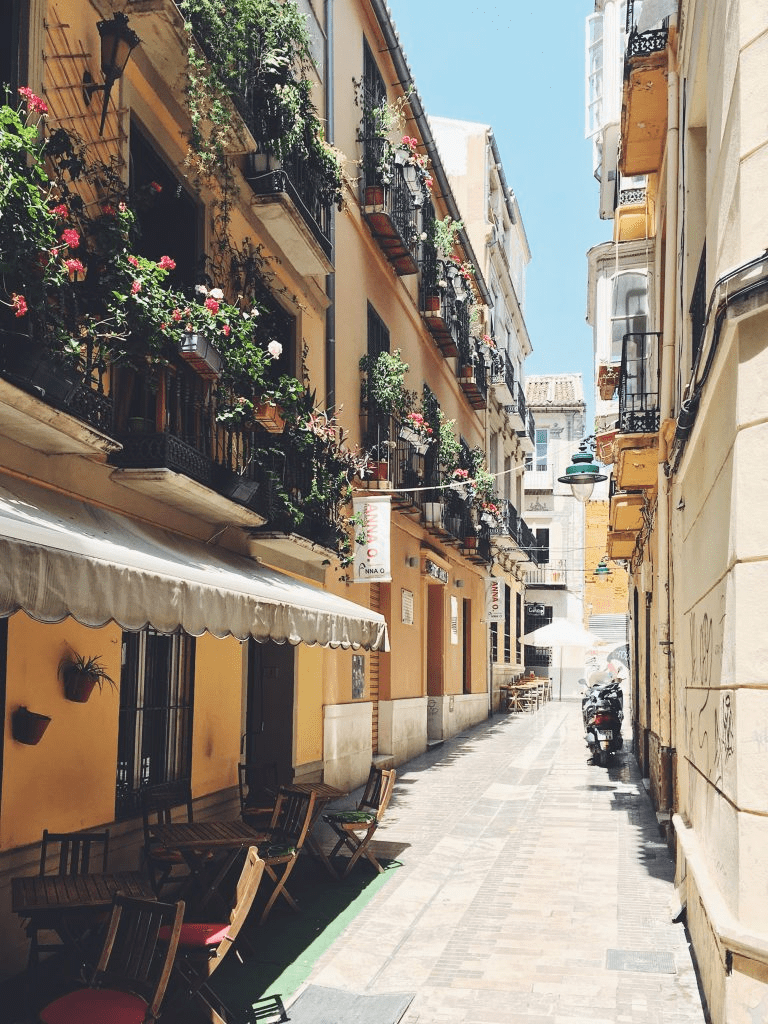 Visit the Alcazaba and Gibralfaro Castle.
Teatro Romano Málaga.
Mercado de Atarazanas the market hall of Málaga.
Picasso Museum.
Book a city bike tour.
Málaga's oldest Bodega Bar, Casa de Guardia.
Casa Lola and El Pimpi for the delicious tapas.
Bike to the fishing quarters Pedregalejo and El Palo on the east coast.
Public transport
When you arrive by plane, it is best to take the C2 train to the centre of Málaga. The train leaves every 20 minutes. This is the cheapest and fastest way, for €1,85 you already have a single ticket, and you are in Málaga within 11 minutes.
In Málaga it is easy to transfer by bus. Málaga's transport consortium, EMT, runs all of Málaga's city buses. There are about 50 lines that run all across Málaga. It is also very easy to check timetables and routes in English on the EMT website. A single bus ticket within the Málaga urban area costs €1,30. You can also buy a 10-journey ticket for €8,30 or a monthly bus pass for €39,95. You can buy single tickets on the bus. Drivers give change but try to avoid notes bigger than €5. You can buy the other tickets at Estancos (look for the yellow capital T outside the shop), newspaper kiosks and many other places in the city centre.
Train travellers can take advantage of many options to travel through and around Málaga. Train station Málaga Maria Zambrano is the main station which is located on the edge of the centre. Both regional (along Costa del Sol) and national (high-speed to Madrid, Córdoba, Sevilla etc) trains arrive and depart from this train station. From this train station you can easily transfer to the bus at the nearby bus station of Málaga.
Cycling in Málaga is a fun way to explore the city. Almost on every corner of the street there is a bike rental company. A bike tour is the perfect way to discover beautiful sights, but you also discover hidden gems. Within 3 hours you see the best of the city and you get a good impression of Málaga. A great opportunity is to rent a bike and discover beautiful beaches and cosy fishing districts. The extensive and car-free boulevard is ideal for a nice bike trip.
Housing
Málaga has become one of the cities with the highest population in Europe. Due to this, the prices of flats in Málaga have been increased. For you we will highlight the best neighbourhoods of Málaga.
Old town, history city centre is a popular area in Malaga. There are many museums, outstanding nightlife, and restaurants with delicious Spanish food. Old town is the centre of Málaga, which means the Spanish is just around the corner.
Soho is the art area of Málaga. This is a result of the MAUS project (Málaga Arte Urbano Soho) that was developed years ago with the goal of transforming the neighbourhood into an urban art canvas.
La Malagueta is the most typical beach of Malaga. Here you will find bars, pubs and some of the best restaurants in the area. The Malagueta beach is 1,200 meters long from Puerto de Málaga to Playa de La Caleta.
Teatinos is known as Málaga's university district. It is an area very close to the main faculties, which makes it popular for young families and students. In this area there are many cheap restaurants around to choose from. Teatinos is a home to many international professionals. If you want to live in an international environment, Teatinos is the place for you!
Rental prices in Málaga are divergent. Living close to the sea is a luxury. The area of El Limonar is one of the zones with the highest prices. While Teatinos one of the cheapest areas is in Málaga. However, Málaga has various accommodation options, including studios, houses and villas. A one-bedroom rental in the centre of the city is between €600 – €850 per month. Outside the city centre a one-bedroom apartment is between €400 – €700 per month.
To prepare you for finding a home, we will give you some tips:
Think carefully about where you want to live. You may get in love with the old centre, but it can get noisy in the evening due the volume of tourists.
Start early with preparing all the paperwork you need before you will live in Málaga. For example a NIE-number (foreigner's identity number), Social Security number and documents for opening a bank account.
Be careful with estate agents. The industry is not tightly regulated in Spain, almost anyone can open an estate agency and start selling property without any real training. There are numerous ways you can check the reputation of an estate agency such as:Check to see they belong to a regulatory body known as the API (Agents de la Propiedad Inmobiliaria).Look for social media comments and Google reviews.If possible, speak to anyone who has used the agency's services.Visit the apartment before you make an agreement and pay the bills.
Check to see they belong to a regulatory body known as the API (Agents de la Propiedad Inmobiliaria).
Look for social media comments and Google reviews.
If possible, speak to anyone who has used the agency's services.
Visit the apartment before you make an agreement and pay the bills.
Hire a translator if you do not have a strong command of the Spanish languages.
Healthcare
The healthcare in Spain is known for one of Europe's best healthcare systems. Moreover, it is free for EU citizens who hold a European Health Insurance Card (EHIC).
The European Health Insurance Card (EHIC) is a free health insurance card which entitles you to emergency medical care as a resident of the EU while travelling in one of the countries of the EEG (Europe, Norway, Iceland, and Liechtenstein) and Switzerland.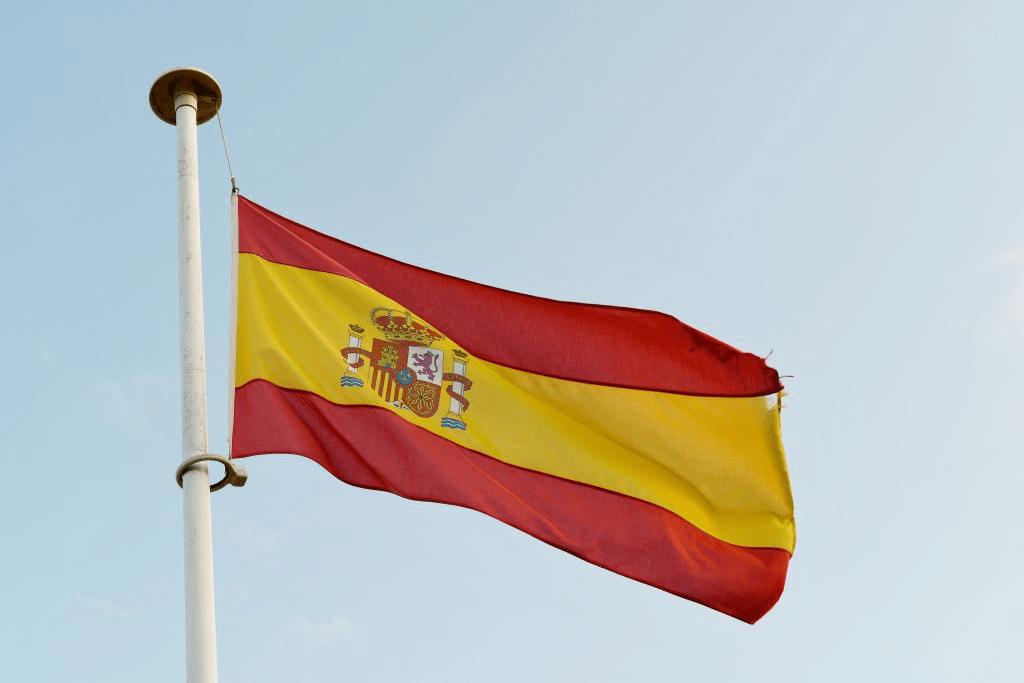 With the EHIC you are covered with for emergency medical care, but it does not cover private and non-urgent medical care, dentist and free care also do not apply if the treatment is the only reason for your trip. Keep in mind that some treatments that are free in your country, may not be free in Spain. In this case, the EHIC does not cover the costs.
If you have an emergency, you can call the number 112 or 061.
Spain has two different healthcare providers. The Spanish public health sector also known as Seguridad Social and a large range of private insurers. The Spanish Seguridad Social is the social care system of Spain. This concerns not only healthcare, but also the elderly care, unemployment, and poverty. Below you can see who and how you qualify for the Seguridad Social.
If you are an employee in Spain, then your employer will pay a contribution to the Seguridad Social for you.
If you are an employer, then you must take care of your payment by yourself.
If you have a pension, then you pay the premium via the healthcare insurance contribution to the Health Insurance Board.
After you successfully register with the Seguridad Social, you will receive a paper to register with the local Centro de Salud. Here you have to register and you can choose a doctor. When registering, you are often given the choice of which doctor you want to choose. Tip: Ask which doctor speaks English or another language that you know.
In Spain there are many private insurers to choose from. Important to know is that existing complaints are almost always excluded from insurance and that not everyone is admitted. For admission to private insurance, you must always complete a questionnaire with your medical history. After this an evaluation will be made whether you can be admitted or not. The advantage of private insurance is that you can almost always go to an English-speaking doctor. Depending on your insurer you may or may not have a free choice where to receive treatment.
Some words to get you started
To help you a little bit with the Spanish language, we created a little list with the most common words. In Malaga they speak Spanish with their own dialect.
Here are some tips to help you out:
The pronunciation of the c (before the e and i) and the z; these are pronounced like a letter s.
They do not pronounce the d or s at the end of a word.
Swallowing of final syllables is more common.
The ch is more often pronounced as sj than as tsj.
Finally, the pronunciation of the j (or g for an e or i) is not so loud, and the sound moves more towards the h.
There are some letters that are pronounced differently in Spanish than we you might use to:
H = is not pronounced
J = G
Ll = j
Ñ = nj
V = B